DT  (Danny) Seville was born March 21, 1967 and is deffinately the nut of the bunch.  Pulling pranks, clowing around and playing his guitar like a wildman is his thing. As a young boy, DT started his musical career at the age of 7. He received piano instruction at the Linsey School of Music in Jefferson City Missouri for 8 years and did many concert recitals and quartet reviews. Featured as the "who's who" in the Jefferson City News and Tribune and many other local and reginal publications, DT retained some interest in classical music but his heart  was in hair-band rock and roll. "It's kinda hard to bang you head to Bach, Beethoven and Chopin."

At age 23 he attended Musicans Institute (GIT) in Hollywood CA, where he learned the finer points of music theory as it relates to guitar.  And, once again classical music reared it's 'ugly head,' but this time it was different.  "I never knew just how cool those classical apreggios were, until I put it to the 6-string." Now, classical is one of the many styles that can be heard shreding from his guitar. 
          
DT has played in many bands through out the last 17 years, but is most noted for his work in such recent projects as Hair Force,  Backwash, and Snow White to name a few.  The latter of which known for such singles as:  "Reminiscing," "Smoke and Mirrors" and "Surround Myself."

His musical tastes are too wide and diverse to even begin to name, but it is his recent involvement with Poison Overdose, which has been his latest passion. "I've always loved Poison and really cherish the opportunity to be involved with such a talented group of  musicians, who are dedicated to providing an honest tribute to them.  "This is serious business, even though we have a blast doing it.  CC Deville is an awesome guitar player and his work is very challenging and fun to play. I have also had the privelage of meeting him on more than one occasion and he is a great guy as well....and funny.  

To see just how good a job DT does portraying CC Deville, check out a Poison Overdose show. You'll be stunned and amazed!!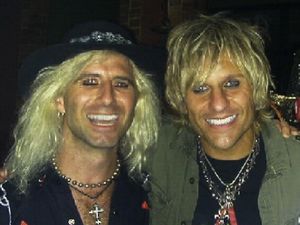 Click image to see DT's Facebook page